North Shore residential property values have just hit a new $1 million milestone.
Andrew Rush, QV national spokesperson, said average Shore house values had followed Auckland city and set a new record last month, joining the $1 million league for the first time.
"Hot on the heels of the average value in the old Auckland City Council region topping one million dollars last month, the average value in North Shore City has now also ticked over the milestone and is sitting at $1,007,836, with home values there are up 17.6 per cent year-on-year and a huge 6.2 per cent since May," she said.
QV has just released its national monthly data which showed house values rising at the fastest rate in seven years, Auckland investors moving south to Wellington and Dunedin and big value jumps in Hamilton, Tauranga, Whangarei, Franklin, Hauraki and the Waikato districts.
Values in the entire North Shore area now average $1,007,836 while values in the entire Auckland City area average $1,014,873, QV data showed.
See how much your area has gone up
North Shore coastal (Westlake, Crown Hill, Milford, Takapuna, Forrest Hill, Torbay, Browns Bay, Rothesay Bay, Campbells Bay, Mairangi Bay, Murrays Bay, Devonport, Cheltenham, Belmont and Narrow Neck) values average $1,148,505, up 6.1 per cent in the last three months but 15.9 per cent annually.
North Shore Onewa (Glenfield, Marlborough, Hillcrest, northcote, Chatswood, Birkdale, Birkenhead central and Beachhaven) values average $823,563, up 6.7 per cent in the last three months 21.1 per cent in the last year.
North Shore North Harbour (Okura, Albany, Unsworth Heights, Meadowood, Greenhithe) averaged $964.036, up 6.1 per cent in the last three months.
Values in Auckland city central (Point Chevalier, Grey Lynn, Epsom, Remuera, Parnell, the central business district, Arch Hill, Ponsonby, Herne Bay, Newmarket and Mt Eden) average $873,702, rising 16.9 per cent cent since July last year and 4.6 per cent in the last three months.
Auckland city east (Stonefields, St Johns, Meadowbank, Glen Innes, Point England, Orakei, Kohimaramara, Mission Bay, Ellerslie, St Heliers and Greenlane) values now average $1,2666,529 and are up 5.1 per cent in the last three months.
Auckland city south (Blockhouse Bay, One Tree Hill, Sandringham, Mt Albert, Wesley, Three Kings, Mt Roskill, Otahuhu, Onehunga, Mt Wellington) averaged $930,000, up 5.3 per cent.
Auckland city islands (Waiheke, Rakino, Great Barrier and the outlying islands) values average $930,377 and rose 5.3 per cent in the last three months.
Manukau East (Bucklands Beach, Pakuranga, Highland Park, Botany Downs, Meadowlands, Burswood, Whitford, Clevedon, Beachlands, Maraetai, Howick, Dannemora, Summerville) values average $931,586, up 5.2 per cent in the last three months.
Values in Manukau central (Redoubt Road precinct, Manurewa, Hill Park, The Gardens, Weymouth, Wattle Downs, Otara, East Tamaki, Wiri) average $554,633 but rose 8.7 per cent in the last three months.
Manukau north west (Mangere Bridge, Mangere, Mangere east and Papatoetoe) were up 6.7 per cent, averaging $600,481.
Rodney Hibiscus Coast (Waiwera, Hatfields Beach, Orewa, Red Beach, Stanmore Bay, Stillwater, Manly, Tindalls Bay, Army Bay, Gulf Harbour, Silverdale, Albany Heights, Whangaparoa shops precinct) values average $734,361, up 3.5 per cent in three months.
Rodney north (Wellsford, Warkworth, Mathesons Bay, Leigh, Snells Beach, Omaha, Mahurangi east and west, Kawau Island, Helensville rural, Kumeu rural, Dairy Flat, Pakiri, Riverhead, Huapai) values are $748,808, up 4.4 per cent in three months.
Harcourts said this morning that provisional sales data showed average July sale prices up 25 per cent to $832,013. New listings dropped 6 per cent from July last year to last month and inventory fell from 1732 last July to 1443 last month.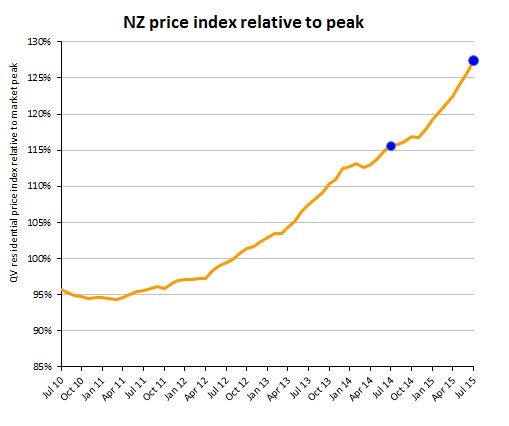 See article on NZ Herald: http://www.nzherald.co.nz/business/news/article.cfm?c_id=3&objectid=11491720