Home Building.
No matter which side of the divide you're on, there is cachet in the words "architecturally designed" in the sales advert for a home.
Architects will tell you they can visualise the opportunities of a site. It's true. A good architect can design the perfect home for a tricky site, take advantage of views and light, and harness the natural environment. They claim, and often succeed, to show clients greater potential than they might have envisaged.
What's more, architects are skilled at extracting the maximum spatial return for your buck. They will also present options that you may not have thought of when you started planning your dream home. But sometimes, as homeowners will tell you, they have cost blowouts as well.
Architects bring more to the table than just design skills. They should have a good knowledge of the Building Code requirements.
Building a home is a huge undertaking and can be overwhelming. Often architects and architectural designers play a big role in the build, which adds to the cost but also ensures their plans are followed.
This takes some of the weight off the homeowner's shoulders.
Kiwis who use architects to design their homes usually end up with a more individual structure than they might get if they choose a standard home plan. And architects can save you heartache.
It's not just high-end properties that will benefit from an architect's input. They can add value to more budget projects.
Architects will give you the "wow factor", says Grant Porteous, GJ Gardner managing director. That suits some Kiwis. But for the masses the extra cost involved doesn't necessarily make financial sense.
A standard plan from a group housing company such as Signature Homes, David Reid Homes and GJ Gardner is tried and tested. These companies get ongoing feedback from their customers and know what sells. What sells is what people want. It's also cheaper to buy a group home than it is an architecturally designed one.
Most group home builders have show homes that potential customers can visit to see what they'll feel like to actually live in.
Group homes aren't necessarily clones of each other. Most of these group home building companies offer the ability to personalise your home with customisable options. So it doesn't need to be exactly the same as the neighbouring one. This does cost money, but usually less so than hiring an architect.
The reality is, says Porteous, that group home builders use architects to design their plans in the first place. In the case of GJ Gardner it's mostly Shanahan Architects and Creative Arch, although the company is using other architects in Hobsonville to make sure there is variety.
About 70 per cent of the homes GJ Gardner builds are designed from scratch, rather than from the 80 to 100 pre-designed plans, says Porteous. In hilly terrain such as Auckland, clients are more likely to go for a design from scratch option, and in flatter towns such as Blenheim the standard plans are more popular.
The advantage for group home building customers is that they pay less for their plans, benefit from economies of scale, and don't have to pay the 10 per cent or more cost of an architect managing the build.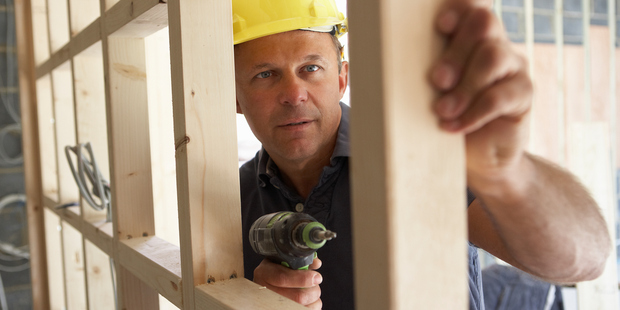 Because GJ Gardner builds 800 to 1000 homes a year, most of what customers need to do is pre-designed and there isn't a huge cost in re-engineering. On the other hand, there are thousands of Kiwis who want something unique and cutting edge. For these people a private architect is the ideal answer.
From a resale point of view it's swings and roundabouts whether you've built one or the other.
"Architecturally designed" definitely comes at a premium, says Martin Cooper, who owns several Harcourts franchises on the North Shore. Those two words often imply luxury and high-end design.
There is a certain type of real estate buyer who likes the prestige of owning a home designed by a well-known architect, says Cooper.
"They like the prestige nature of bespoke architectural design, especially if the architect has a good name in the marketplace," he says.
The extra cost of designing and building an architectural home is usually offset by the additional resale value. Every home is different, but a 10 per cent premium on the resale price isn't unusual, says Cooper. For those seeking flexibility, architects will also offer partial service options.
Some buyers only care what the home is like to live in and would be just as happy with a group home as one designed by an award-winning architect, says Cooper. They want to be near good schools and their work and care mostly about whether the house feels right, he adds.
What people don't think about, when they consider the group home builders, says Cooper, is that they employ architects and design teams that are keeping an eye on what the latest trends are.
"They are delivering a really user-friendly product for customers," says Cooper. He says the group homes are looked down upon by some, whereas the designs are ideal for many clients — especially those in the $400,000 to $900,000 bracket. "They are producing what customers like, consistently improving their design giving people quality living at a reasonable price."
What's more, says Porteous, many real estate adverts highlight the group home builders' name because that type of home is sought after.
DIY HOUSES CUT THE COSTS
Kitset homes aimed at the DIY market are a good option for people on tight budgets. Packages typically include everything you need to build a home from the frame to the appliances to build a complete home.
At J2Homes, for example, a kitset home costs from $57,595 to $114,273. The home buyer manages and controls the construction and may be able to do part of the work themselves. However, they do need to be aware that there are many jobs that only a licensed building practitioner can do under the Building Act.
This article is sourced from the NZ Herald. Click here to read article >>