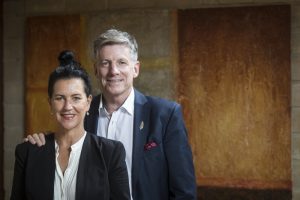 Martin Cooper and Kim Van Hest live in Albany, Auckland, in a house they own themselves.
Between them they have six children and two grandchildren and are "financially comfortable".
Cooper owns Cooper and Co Real Estate Ltd, a successful real estate company in Auckland and Van Hest, a former fashion designer, is retired.
Both want to see the Government deliver on getting more first home buyers into their own homes.
"[Phil Twyford and Labour] campaigned on Kiwibuild and providing 100,000 homes. I'm hoping to see measures that would make this happen," Cooper said.
He said the Government could "figure out where to get the money from" to make Kiwibuild a success, he just wanted them to do it.
Cooper also wanted to see a good chunk of money allocated for Auckland's public transport system so the city could capitalise on its status as a big business hub in New Zealand.
"Most of the people that live in Auckland that don't live and work in the same spot – if they want to get to the airport it's a major issue, or get across town, or to a show or out on the weekend – it's major congestion.
"I'd like to see a major focus on policy and funding to ease congestion," he said.
"People in Albany don't want to pay for trams down Dominion Rd – but it needs to be a holistic approach."
He was interested in adequate funding in areas like police, healthcare and education to ensure a bright future for his children and grandchildren.
Van Hest also wanted help for first home buyers, saying it would be good to see some kind of one off payment introduced to help people buy their first home, like Australia has.
She also wanted funding for practical environmental projects, like machinery for a recycling scheme which returns cash in exchange for recycling, and more water fountains so people could fill their own reusable ones on the go.
Mainly though, she wanted better funding for the mental health sector.
"That's a priority for me," she said.
"For the amount of suicides we have, it's tragic out there."