Extract from Harcourts Hall of Fame Induction Booklet:
"This world we live in is made up of billions of people – each unique and individual in their own way.  Each has their own personal strengths and weaknesses, positives and negatives and their own beliefs in right and wrong, true and false and good and bad.  And within this vast mix of people there are the special characters who just make the world a better place to be in.
And so we come to Martin Cooper, mentor, businessman, auctioneer and real estate executive.  When we think of Martin we think of all his endearing qualities – passion, enthusiasm, confidence, warmth, tenacity, compassion, laughter, quirkiness, fun and charisma – that he shows to us all each and every day. He is one of those people that you just can't help but like."
"Martin made his big entrance at the Queenstown Maternity Hospital on 5 November 1960.  His parents tell us that the was walking to the beat of his own drum from an early age and vividly recollect him walking through  his Grandparent's hotel – drumsticks in hands – beating his Birthday drum, a smile from ear to ear, fat chubby thighs like a front row forward, banging for all he was worth!!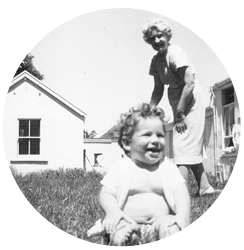 Starting school had no attraction for Martin.  Most mornings the ascent up to the school was repeated several times as every time he reached the top he would wrench himself from his mother's iron like grip and run back down the hill.   This drama took place each morning until his mother refused to walk him to school and his father had to drive him and physically deposit him into the hands of a very stern Sister Tarcisius.
As the years passed his dislike of school did not change but his sense of cunning did.  He confessed years later that before handing over his report cards to his parents he would "doctor" them by turning a 6 into an 8 or better still a 3 into an 8 and so on and had his parents believing that their first born was doing considerably well in the scholastic stakes.
Martin's first job, having left Taieri High School in Dunedin, was at Woolworths where his people skills came to the forefront as he charmed the ladies with his generous and unwavering admiration of their hairstyles.  When he first took over as a manager at Woolworths he came up with a cunning plan to increase revenue.  He purchased what he thought was 124 individual boxes of chocolates but what he actually ordered was 124 large boxes with 24 individual boxes of chocolates in each box.  His 124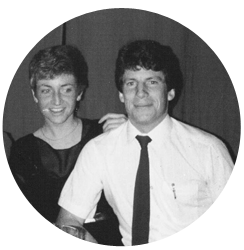 boxes of chocolates turned out to be nearly 3,000 boxes of chocolates.  Not knowing quite what to do but knowing he needed to get rid of them in a hurry he realised that it was fast approaching Mother's Day so he built a huge tower of chocolate boxes and promoted them as the perfect Mother's Day gift. Customers poured into the store, and as well as buying the chocolates they bought other items as well.  The big bosses made a much bigger than expected profit all thanks to their new young manager and decided that he was an absolute marketing genius.  And that was the start of Martin's creativity in marketing.
Having made his mark Martin left Woolworths to become a travelling sales rep for Fisher and Paykel.  The travelling took a lot out of him and he was encouraged to find a more settled role and that's where Martin made a decision that has shaped the rest of his career.  He joined Don Kindley Real Estate in Dunedin and found his life's calling – a career that would utilise his charisma, intelligence and genuine love of people.After cutting his teeth with Don Kindley, Martin bought a Harvey's franchise in Dunedin and began his career as a business owner.
With mixed success in Dunedin, Martin decided to make a bold move and relocated himself and his family to Auckland. Again he bought a Harvey's franchise and established himself on the North Shore.
The young and talented Martin soon caught the eye of Harcourts management, who recognised this was someone they wanted working for Harcourts.
At the time Martin owned two Harveys offices – in Milford and Glenfield – and it was apparent to everyone he was going places. This was a man with huge ambition and ability.
Using all their best persuasive tactics, Jo Clifford and Bryan Thomson convinced Martin that Harcourts was the right place for him to build his empire. To sweeten the deal Martin was able to take over the Harcourts Milford building – which he admired. We all know Martin aspires to have the best and most attractive offices, and that building remains his Harcourts Milford office to this day.
From there Martin began his rapid expansion and domination of the North Shore, with the help of carefully selected and trusted business partners.
He started up the Takapuna and Devonport offices in August 2003.In 2008 it was Browns Bay, 2009 Albany, 2010 Birkenhead, Beach Haven and Mairangi Bay, 2011 Waiheke Island, and 2012  Greenhithe. Finally in 2014, Martin acquired his Sunnynook office.
Part of his business planning has involved diversification into property management. He owns a number of rent rolls, and in the past 18 months he has also expanded into commercial property, with the establishment of a dedicated NAI Harcourts office in Takapuna.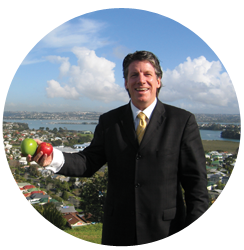 And that is the Cooper & Co empire. With 13 offices and 217 sales consultants, Martin has become our largest business owner. His offices win regional, national and international awards. He pursues his goals with total and utter commitment and what he has achieved so far is just the beginning.
Anyone who has spent any time with Martin knows he strives for excellence in everything he does. He is always looking to improve and find new ways to provide the very best experience to his clients.
Martin compares his business to a seven star hotel. He wants people to be so impressed by their experience of Cooper & Co that they always come back for more. Martin really does strive to create clients for life.
As well as mentoring his own staff, Martin has been a huge contributor to the wider Harcourts group. He speaks at every event he is asked to, up and down New Zealand or in Australia. He is very happy to share his time and he always puts on a good show.
He serves as a member of our Franchise Council. He is a director of Mortgage Express and has contributed significantly to their growth on the North Shore.
Martin is passionate about driving our auction business. He is a talented auctioneer himself, although these days tends to limit himself to charity auctions.
He is a very strong community supporter. Cooper & Co is well known and respected on the North Shore for giving back to their communities and Martin spends much time and energy improving people's lives through his charitable endeavours.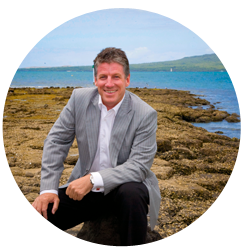 Martin is the sort of person who does everything with class. If he holds an event, you know it is going to be one you'll be talking about for months. He is currently fronting a very successful television campaign – and when you watch the commercial you see very clearly that man who is impossible not to like.
He has a true love of real estate and sees himself remaining in the industry for years to come."
Profile