Martin Cooper Focused on Fostering Success and Excellence
Channel Mag Article
The great thing about producing a publication celebrating local business is you get to meet some neat people. Most of the people we engage with are leaders who are doing exceptional things in their businesses and inspiring the people around them. Martin Cooper, the majority owner and Managing Director of leading local real estate group Harcourts Cooper & Co is a prime example. Under Martin's leadership, since 2001, Harcourts Cooper & Co has grown from a market share of 3.4% to 32% of the market and a team of 340 people distributed across 13 offices.
Martin Cooper was brought up in Queenstown. His first job was in hospitality in the deep South and that was followed by a stint as a South Island Rep for Fisher and Paykel, but he tired of all the driving and after 28 trips he threw in the towel to move into real estate in Dunedin. He has been in it ever since. In 1983 he joined Don Kindley Real Estate and completed a nine year apprenticeship in residential sales before setting up his own gig – the first Cooper & Co office.
"I spent $100,000 on the fitout of that first office, which was a lot of money back then," reflected Martin. "I overdid it a bit as we ended up with big premises that were initially home to just myself, one admin person and one computer."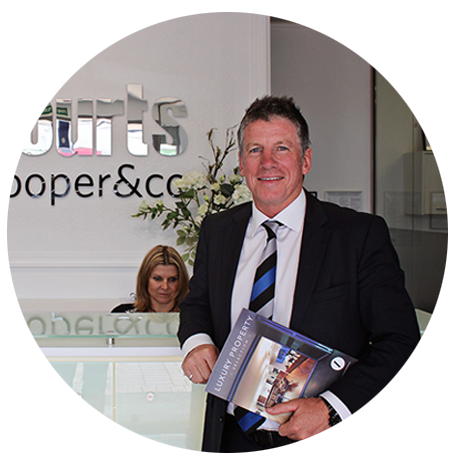 Between 1991 and 1995 Martin Cooper grew that business from zero to a 25% share of the Dunedin market. But he was yearning for bigger things so he moved north to Auckland and the North Shore, where he has been ever since. His entry into the market was via the purchase of Vision Real Estate with offices in Birkenhead, Glenfield, Milford, Mairangi Bay, Browns Bay and Hobsonville.
Martin says he arrived with high hopes but experienced quite a few setbacks through the difficult period that was the late '90s. In 1998 no less than 68 real estate offices closed in the Auckland region and Martin owned four of them. He rationalised to an office in Glenfield and one in Milford, and consolidated to hold the 3.4% market share by 2001. What has been achieved since that time has been very impressive. There are now 13 residential real estate offices with 1400 properties under management, plus the NAI Harcourts commercial real estate operation in Takapuna.
I had never met Martin Cooper prior to interviewing him for this article at his Milford office. But what I had heard about him had impressed me and he has done a fantastic job of making his Harcourts Cooper & Co brand part of the North Shore community. Being involved in the community is something he is clearly passionate about, as Harcourts Cooper & Co seem to be involved in just about everything.
"That's where we do business, in the local community, so we have a strong North Shore focus," said Martin when asked the question about the connection with the community. "At last count we have over 170 schools, clubs and community groups that we are involved with. Where possible we try to ensure members of our team are involved with these entities as well. It is an enjoyable part of this business which is really about people more than property."
So why has Martin Cooper been so successful in what is a very competitive business sector?
"I have a good attention to detail and have things pretty organised. I back myself to make good decisions. Good systems are hugely important and I place a big emphasis on the customer experience, being innovative in terms of technology and bringing new ideas to the industry. I have a pretty simple philosophy as a leader, which is to provide an environment for all members of my team to achieve success and excellence. I concentrate on providing the very best in offices, administration, management and technology. Having one leadership team makes things easier as well. I also get a thrill out of the success achieved by members of our team, with Matty Ma of our Albany office being a prime example. Matty came to New Zealand from Northern China 15 years ago and is now the top residential agent for the entire country and is number one for Harcourts internationally. Innovation also plays a part in our success. We have the very best team of auctioneers and we concentrate on conducting onsite auctions, while most of our competitors have central auctions. I believe this approach to auctions offers greater success. Just this past weekend we held 22 onsite auctions with 20 of those properties selling under the hammer. We are big on training and staff development, running close to 50 of our own training sessions a year and we are fortunate to have the Harcourts group training on top of this."
Martin Cooper has become a fan of highly sought-after international motivational speaker Robin Banks, who is one of the world's leading authorities on the subject of Mind Power and Personal Mastery. Martin had a good number of his team attend a Robin Banks session at the Bruce Mason Centre in Takapuna in June and was thrilled by the results.
"It all really comes down to the realisation that what you dwell on grows and your perception is your reality," explains Martin. "Robin spoke at a Harcourts conference and I just knew he would be good for members of my team. So I brought him to the Bruce Mason Centre and he did a session for just about our entire team and quite a few others, and it made an impression. He made a profound difference to their thinking, with one of my team who had been a little in the doldrums going on to list nine properties in just nine days after being motivated by Robin's techniques. Robin's all about affirmations and self belief and getting rid of that little voice that is telling you those negative things. Most of us have experienced it when we are stepping up to whack a golf ball with a whole lot of people looking on. This thinking is holding a large proportion of us back in our everyday lives."
"It is great that he is coming back in October to present at Massey University. I'm sending 100 of my people along and it is open to others to attend as well. Believe me, it will be money well spent."
So what does Martin Cooper love about the North Shore?
"The real sense of community. We have a very welcoming community with most people having moved here from somewhere else at some stage. You can't beat the lifestyle either. We are spoilt being surrounded by water and it is a great place to bring up children with great schools and universities. We are also really close to the city without all the hustle and bustle. I love the fact our economy is growing as that's good for our business. Mayor Len Brown tells us that the population is due to double and if he is right, that will make for real estate heaven!"
What does Martin Cooper feel the North Shore can do better?
"We can do much better with our architecture and the development of our public spaces. I would also like to see more ferries, with wharves at Browns Bay and Takapuna. How good would that be?"
How does Martin Cooper relax?
"I have a paddle board and love to get out on the water as much as I can. I also enjoy mountain biking and road cycling. I'm not really into sitting still and reading. I find that paddling or cycling gives me time to relax and catch up with my thoughts."
Any predictions for the real estate market over the next two to five years?
"I believe there is lots of opportunity coming in real estate. We recently surveyed our last 150 sales and 47% of these were to first home buyers and investors who continue to fuel the market. There are also lots of buyers trading up. It is a good sign as well when only a handful of the 1400 properties that we have under management are empty. The demand on the Shore is very strong and I see this continuing for the next few years, with the positive immigration flow also being good for the market. This is good because when the property market is going well, money tends to go round a bit more and go into purchases like vehicles, home improvement and holidays."
Press Releases